Most Wanted Toy for 2008?
Entry posted by Santa Bear ·
Viewed: 987 times

As a Santa, I found out years ago that it is important to try to keep up with the current trends in the toy market. When talking with children about what they might like for Christmas, being able to talk to them about all the neat toys out there can help make a visit with Santa all the better. To help with this, I try to find what I can on the internet by visiting toy manufacturer's websites, watching videos from people who visited the New York Toy Fair, and reading articles from Toy magazines. Pretty much, whatever I can find.
This year's New York Toy Fair had lots of new toys that were showcased. Toys based on movie heroes like Iron Man, Indiana Jones, and Speed Racer. New interactive learning toys. Just about anything you can imagine will soon be in a store near you.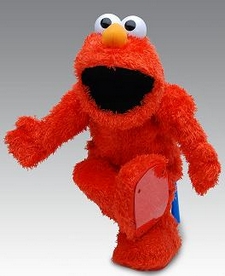 The one toy that really caught my eye was the new Elmo Live. Elmo Live is an extremely interactive toy. Elmo Live moves his mouth when he talks, sits, stands, crosses his legs, asks for hugs, moves his head, claps his hands, waves his arms, tells jokes, sings songs, plays games, and tells stories. Plus he reacts when he's tickled, or someone squeezes his foot, tummy, back, or nose. Elmo Live is for children 18 months and older and will cost around $66. Elmo Live should be available in October.
We thought the Tickle Me Elmo was popular, but I think this one is going to blow the roof off.
You can watch a video of Elmo Live at the FisherPrice website, or click here to view it. Here's another video of Elmo Live that was on YouTube:
j09KLtf7EI8