Well happy New Year everyone and welcome to our first newsletter for 2017!
This year marks our 10th year online. It's hard to believe I know. The idea of the ClausNet Santa Claus Network came about back in in 2007 after I attended the Charles W. Howard Santa Claus School in Midland Michigan. I was looking for a way to continue the camaraderie I experienced at the school and a better way to share our experiences and facilitate the exchange of ideas.
ClausNet.com officially launched in April 2007. Our first month we only had 9 members. But since then we have grown exponentially. Today we have over 2,400 registered members!
We have a couple of events planned this year to celebrate our tenth year online. Stay tuned for more information coming soon! .
In other news, we have added a few new items to the ClausNet Zazzle Store. We have lots of great items to help celebrate our ten year anniversary. And as always, all proceeds go to support ClausNet.com.
I hope you enjoy this month's edition of the ClausNet Gazette. Also in case you missed it, check out our 2016 Christmas Eve issue of the ClausNet Gazette. The special edition went out to mailboxes on Christmas eve, but if you missed it you can download it from our online newsletter archive.
Thank you again for making ClausNet the premier online destination for Santas, Mrs. Clauses, Elves, Reindeer Handlers, and Santa Claus Helpers!
In The News
News Sentinel-KPNX -- Eric Schmitt-Matzen looks every bit like Santa Claus.
His 6-foot frame carries 310 pounds, leaving "just enough of a lap for the kids to sit on," he says with a gentle Kringley chuckle right out of Central Casting.
No fake facial fuzz for this guy. Schmitt-Matzen's snowy beard is the real thing, albeit regularly bleached to maintain its whiteness. His shag is so spectacular, in fact, it won first place in the "natural full beard, styled moustache" division of a 2016 national contest sponsored by the Just For Men hair products company.

Image: KING5.com
The whole shtick is designed to spread joy and have fun. Which it does – except for the role he played several weeks ago at a local hospital.
"I cried all the way home," Schmitt-Matzen told me. "I was crying so hard, I had a tough time seeing good enough to drive."
"My wife and I were scheduled to visit our grandchildren in Nashville the next day, but I told her to go by herself. I was a basket case for three days. It took me a week or two to stop thinking about it all the time. Actually, I thought I might crack up and never be able to play the part again."
This is what happens when a terminally ill child dies in Santa's arms.
"I'd just gotten home from work that day," recalled Schmitt-Matzen, 60, a mechanical engineer and president of Packing Seals & Engineering in Jacksboro.
"The telephone rang. It was a nurse I know who works at the hospital. She said there was a very sick 5-year-old boy who wanted to see Santa Claus.
"I told her, 'OK, just let me change into my outfit.' She said, 'There isn't time for that. Your Santa suspenders are good enough. Come right now.' "
Schmitt-Matzen got to the hospital in 15 minutes. He met the lad's mother and several family members.
"She'd bought a toy from (the TV show) PAW Patrol and wanted me to give it to him," he said, voice growing husky. "I sized up the situation and told everyone, 'If you think you're going to lose it, please leave the room. If I see you crying, I'll break down and can't do my job.' "
Nobody entered with him. They watched, sobbing, from a hallway window in the Intensive Care Unit.
"When I walked in, he was laying there, so weak it looked like he was ready to fall asleep. I sat down on his bed and asked, 'Say, what's this I hear about you're gonna miss Christmas? There's no way you can miss Christmas! Why, you're my Number One elf!
"He looked up and said, 'I am?'
"I said, 'Sure!'
"I gave him the present. He was so weak he could barely open the wrapping paper. When he saw what was inside, he flashed a big smile and laid his head back down."
'"They say I'm gonna die,' he told me. 'How can I tell when I get to where I'm going?'
"I said, 'Can you do me a big favor?'
"He said, 'Sure!'
"When you get there, you tell 'em you're Santa's Number One elf, and I know they'll let you in.
"He said, 'They will?'
"I said, 'Sure!'
"He kinda sat up and gave me a big hug and asked one more question: 'Santa, can you help me?'
"I wrapped my arms around him. Before I could say anything, he died right there. I let him stay, just kept hugging and holding on to him.
"Everyone outside the room realized what happened. His mother ran in. She was screaming, 'No, no, not yet!' I handed her son back and left as fast as I could.
"I spent four years in the Army with the 75th Rangers, and I've seen my share of (stuff). But I ran by the nurses' station bawling my head off. I know nurses and doctors see things like that every day, but I don't know how they can take it.'"
In despair, Schmitt-Matzen was ready to hang up his suit. "I'm just not cut out for this," he reasoned.
But he mustered the strength to work one more show.
"When I saw all those children laughing, it brought me back into the fold. It made me realize the role I have to play.
"For them and for me."
Read the entire article on ClausNet.com »
BBC.com -- A Catholic charity has launched a "Father Christmas-free zone" in a German town as part of efforts to promote the more traditional figure of Saint Nicholas.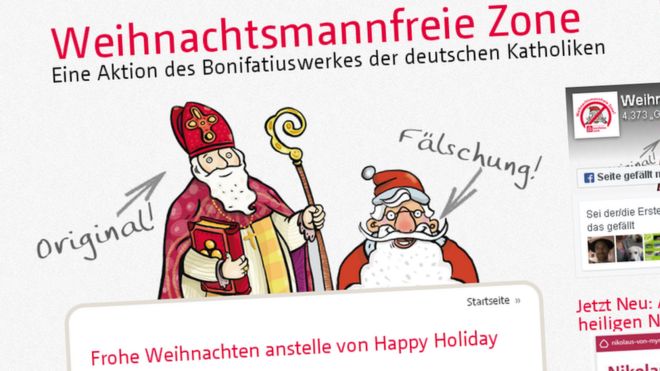 Photo: BBC
Scores of children attended an event in the Bavarian town of Passau to mark the arrival of the saint and the setting-up of the Santa-free zone, the Bayerischer Rundfunk news website reports. The ceremony was also attended by talent show celebrities and the local bishop.
Saint Nicholas's feast day is on 6 December and is celebrated in Germany with presents, but the Catholic Bonifatiuswerk charity fears he is being superseded by the more "Anglo-Saxon" Santa Claus in the hearts of young Germans. The red-suited newcomer is more associated with the commercial aspects of Christmas in Germany, and appears in the ubiquitous festive truck-based adverts for Coca-Cola much like he does elsewhere in the world.
But according to Bonifatiuswerk, there's more to the feast of Saint Nicholas than the receiving of gifts, and their campaign exists as a "snappy" gesture against Santa Claus "underlining the importance of Christian traditions and values". That includes what the charity feels should fill the German equivalent of Christmas stockings: saint-shaped chocolates. "By using fairtrade chocolate bars... Saint Nicholas' boots won't be filled with ungodly Santas," it says.
For those who may have already bought their Santa-shaped chocolates, there's a remedy. The charity's website offers a handy cut-out-and-keep Saint Nicholas outfit, designed to be placed over Santa chocolates to give them a more traditional look.
Read the entire article on ClausNet.com »
WLOS-TV via CBS -- A North Carolina mother wants the local Santa Claus fired after saying things that put her 9-year-old son in tears.

Photo: WLTX.com
On Saturday, an otherwise jolly time on Main Street led to a holiday moment the boy would like to forget.
Anthony Mayse says he started crying after what the Santa had said to him. Anthony claims that Father Christmas told him to lay off the hamburgers and French fries.
Meeting St. Nick should have been the kicker, not the heartbreaker. According to Anthony and his mother Ashley, Santa acted like he didn't want to be there to do the job.
Anthony was asking for an iPod Touch and a drone for Christmas when the family said he was body shamed. He later tore up his picture with Mr. Claus, who's employed by Forest City to spread good cheer.
The town manager said Santa had apologized to both the supervisor and the Mayse family. However Anthony says when Santa went to apologize to him, he didn't even mean it.
Instead of a letter to Santa, Ashley would prefer the city send a "pink slip."
They'd like the Forest City Santa to "lay off" the insensitive comments. For now, no more St. Nick for them.
Read the entire article on ClausNet.com »
Featured Member - January 2017
Each month, our Featured Member section profiles one ClausNet member.
Members are chosen totally at random by myself and the staff. Once selected as the ClausNet Featured Member of the Month, we interview the candidate and post the interview on ClausNet.com. This is a great way to get to know your fellow ClausNet members!
We are happy to announce our first ClausNet Featured Member of January 2017 is Santa Johnny Boy!
Our first Featured Member of the Month for 2017 has been a member of ClausNet since our founding in 2007. With parades, commercials, and national print ads for Rite Aid, GNC, and Golf Galaxy, Santa Johnny Boy is one busy Santa Claus!
We caught up with Santa John a few days ago and here is what he had to say...
Read the entire interview on ClausNet.com »
Missed an interview? Visit our Featured Members of the Month section to read past interviews!
What is Auld Lang Syne anyway?
Every New Year's Eve at the stroke of midnight, millions around the world traditionally gather together to sing the same song, "Auld Lang Syne". As revilers mumble though the song's versus, it often brings many of them to tears – regardless of the fact that most don't know or even understand the lyrics. Confusion over the song's lyrics is almost as much of a tradition as the song itself. Of course that rarely stops anyone from joining in.
Despite its association with New Years, "Auld Lang Syne" was never intended to be a holiday song. First published in 1787 by Scottish Poet Robert Burns, the song is about remembering friends from the past and not letting them be forgotten.
The title, "Auld Lang Syne", literally translates to "Old Long Since" – meaning "time gone by" or "old time's sake". The lyrics "We'll take a cup o' kindness yet" essentially means to raise a glass in a toast to good will, friendship, and kindness towards others. The custom of drinking to one's health or prosperity at a special gathering dates back hundreds of years.
Guy Lombardo and His Royal Canadians
Although the song was already popular in Canada and the United States by the early 19th Century, Canadian-born musician, Guy Lombardo (1912-1977) is often credited with the popularization of Auld Lang Syne.
Lombardo first heard "Auld Lang Syne" growing up in London, Ontario, where it was often sung by Scottish immigrants. When he formed his orchestra, Guy Lombardo and His Royal Canadians, the song became one of their standards. But it wasn't until 1929 that "Auld Lang Syne" became a New Year's Eve tradition.
During a live radio broadcast on New Year's Eve at the Roosevelt Hotel in New York City, Guy Lombardo chose the song as a transition between two radio shows. The first half of their New Year's Eve performance was broadcasted on CBS. The second half of the performance, beginning at midnight, was broadcasted on NBC. At the stroke of midnight, the orchestra played "Auld Lang Syne" as a segue from one show to the next – and a tradition was born.
In a 1976 New York Times interview, Lombardo recalls the decision to play Auld Lang Syne at midnight:
"We knew we were going to use 'Auld Lang Syne' as a theme, because Robert Burns wrote it."
"So we decided to use it on that New Year's Eve program, too. It seemed appropriate, and we were familiar with 'Auld Lang Syne' from Canada, where we grew up. As kids, we lived in a big Scottish settlement — London, Ontario — and they always closed an evening by playing 'Auld Lang Syne' before the traditional 'God Save the King.'"
Frank Capra's It's a Wonderful Life is my favorite movie of all time. And even though I have watched this film literally hundreds of times, it is the end scene that always gets me. When Harry Bailey toasts his brother George and the crowd breaks into "Auld Lang Syne", it always brings me to tears.
What makes "Auld Lang Syne" so powerful is it has nothing to do with a new year and everything to do the importance of relationships. With its themes of friendship, reconciliation, and nostalgia, "Auld Lang Syne" reminds us that whatever changes life may bring, old friends should never be forgotten.
Santa's Wisdom
By Santa Lou Knezevich
Christmas Eve signals the departure of Santa and heralds a celebration of the welcomed birth of Jesus for Christians around the world. Strangers smile at each other, acknowledging friendship, "Peace and Goodwill towards Men!" Christmas Eve seems to bring out the best in so many people.
Of course, children are on their best behavior as in a few hours, Santa will be bringing their Christmas wishes. When they are asleep; Parents will be retrieving presents from secret hiding places and placing them about the tree. Of course it's up to Dad to construct those toys which on the box read, "Some Assembly Require." If you're like me, some of the directions never made sense or a part was missing, or was it my haste in those late hours to finish?
When my children were young, I was a stickler, telling them to "read the directions" when they assembled toys. Years later, turnabout became fair play, when they were grown and I asked for some computer help. They had me right where they wanted me by reminding me, "Dad just read the directions."
I remember many a Christmas Eve when I looked around our living room with satisfaction knowing within a few hours, ribbons, wrappings and boxes would be everywhere. The gaily wrapped gifts and the glow of the Christmas tree lights which were like colorful prisms in my eyes. Many a time, in the peacefulness of the moment, my mind took me back to my childhood and a much simpler time.
My Christmas Stocking was not like the ones we are familiar with today. It was made of a red stringy mesh material. It was filled with walnuts, hard candies and usually one of those little games which you shook to have the BB fall into a special place. Oh yes, one other prized treat was a Tangerine! When I was a kid, a Tangerine was very significant to me because the sweet aroma and tasty fruit was a part of my Christmas. It was like sunshine to a chilled kid trudging through the snow of a dark Ohio winter. Funny, how the aroma of a tangerine is always a throwback memory to childhood Christmases.
Christmas Eve is a time of reflection, joy, hope and happiness. For myself, a melancholy sadness overtakes me as I reflect back over the events I attended and the faces of smiling children during the season. It's not a sadness of despair but one of knowing, putting on the Red Suit for the holiday season, is over for another year.
I hope you too may reflect upon childhood memories with a warm heart and the magic you felt as a child. When you again become Santa Claus or Mrs. Claus remember that magic and create it for every child you see. Bring to each child a magical memory they will never forget!
Always remember, It's not about you, it's about the children.
Santa Lou Knezevich
Creator Legendary Santas Mentoring Program
LegendarySantasMentoringProg@gmail.com
Read the entire article on ClausNet.com »
Santa Claus Hall of Fame
Each month we feature an inductee of the International Santa Claus Hall of Fame.
This month we honor Richard Brookins!
Richard Brookins first portrayed St. Nicholas during World War II.
In December of 1944, American soldiers from the 28th Infantry Division were stationed in the village of Wiltz, Luxembourg.
Knowing they wouldn't be home for Christmas, Corporal Harry Stutz and Corporal Richard Brookins, decided that the next best thing would be to celebrate the holiday in Wiltz.
On December 5, 1944, Corporal Brookins, dressed in cleric's vestments and a bishop's miter, brought gifts and treats, donated by the American GIs, to the children of Wiltz.
Because of Brookins and the other soldiers who brought St. Nicholas Day back to the children of Wiltz, the village began a tradition that continues to this day to remember the American St. Nicholas and all the soldiers..
Richard Brookins
The American St. Nick
Rochester, New York
1922 – Current
Want to learn more? Visit the International Santa Claus Hall of Fame website.