Happy Valentine's Day everyone! I know I am a little late in getting out this month's newsletter. Normally I have the issue ready to go by the first of the month. But between work, snow storms, and a whole bunch of other projects I've been working on (more on this coming soon…) I just could not find the time.
Last month we held a picture contest. The theme for our contest was "Jolliest Santa/Mrs. Claus". Congratulations go to Santa George and Santa Steve, who tied for first place. If you are a registered members of ClausNet.com, you can view the winning pictures, along with all the other entries in the 2017 Picture Contest album.
For those of you who missed the contest, we have good news! We have another picture contest in the works. Stay tuned for more information coming soon.
I hope you enjoy this month's edition of the ClausNet Gazette. Thank you again for making ClausNet the premier online destination for Santas, Mrs. Clauses, Elves, Reindeer Handlers, and Santa Claus Helpers!
In The News
The Hollywood Reporter -- Anna Kendrick is in negotiations to star in Disney's Nicole, a tale of a female Santa Claus.

Image: Getty Images
Marc Lawrence is attached to direct, while Suzanne Todd, who worked with the studio on Alice in Wonderland, is producing.
Lawrence also wrote the script, whose details are being kept on ice. The twist, however, is that it is a holiday family adventure that centers on the coming of a female Santa.
Disney has done well in the past with tales of old St. Nick, having a hit franchise with the Tim Allen-starring Santa Clause trilogy, which launched in 1994.
Lawrence may be best known for writing and directing Music and Lyrics, a 2007 romantic comedy that starred Hugh Grant and Drew Barrymore. His other directing credits include The Rewrite and Did You Hear About the Morgans, both of which starred Grant as well. Lawrence got his start as a writer-producer on Family Ties.
Todd is currently in production on Magic Camp, a family movie for Disney.
Kendrick already appeared in a Disney movie when she starred as Cinderella in the film adaptation of the hit musical Into the Woods. The actress's musical stylings were most recently heard in the animated feature Trolls, and she is in production on Pitch Perfect 3.
Sources say Nicole is not a musical, but Kendrick may end up indulging her musical side.
Read the entire article on ClausNet.com »
Northumberland News -- Citing insurance concerns and ever-growing funding challenges, the chair of Cobourg's Santa Claus Parade committee said members are prepared to disband.

Photo: Northumberland News
Ron Wiebe, the parade committee chair and current president of the Cobourg Lions Club, told Northumberland News that members have requested the Town of Cobourg form a replacement municipal advisory or planning committee for the ongoing planning and implementation of the parade.
With a total budget of nearly $10,000 to host the parade — comprised of a $3,500 contribution from the Cobourg Downtown Business Improvement Area (DBIA), $3,200 from the Cobourg Lions Club, and the remaining balance from community sponsors and entry fees — Wiebe said the volunteer committee of Lions Club members and community members at large has successfully used this funding model to provide a quality, community-focused parade.
But as members considered the future of the Santa Claus Parade, they were faced with two unfortunate realities: insurance costs and a decrease in funding.
Read the entire article on ClausNet.com »
CNN -- He's making a list and he's checking it twice -- but Santa Claus will have to wait for the transfer window if he's to shower his own football club with presents. That's right, the man in the big red suit with the bushy beard is a fan of a team in the northern Finnish city of Rovaniemi -- and it's called FC Santa Claus.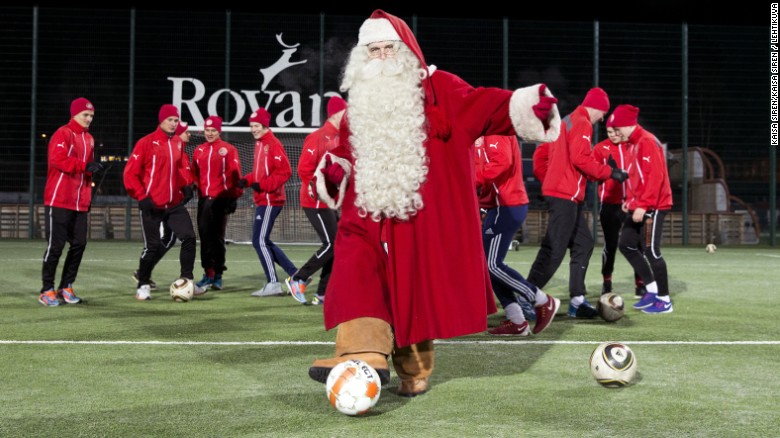 Photo: CNN
While Santa is busy all year round preparing for his travels across the globe, he still has time to sled down to the Rovaniemen Keskuskenttä stadium.
Rovaniemi is situated on the Arctic Circle, at the heart of the Barents Region, some 835 kilometres from the capital city of Helsinki. An estimated 65,000 people live in Rovaniemi, which has served as the administrative center of Finnish Lapland since 1938. More than 500,000 visitors travel to Finland's most northern province each year to meet up with Santa and to experience the captivating scenery. And even if most don't make the trek just to watch the football, FC Santa's popularity has continued to rise since the team was initiated in 1993.
Playing in the lower leagues of Finnish football, the club has fans from across the world who obviously are inspired by its namesake rather novel supporter.
"I've been involved with the club for over 25 years," Juha Etelainen, a former player, told CNN. "We have a very special group of people here, and we do embrace the whole Santa thing." Last season proved Santa's generosity: his team won two of its 22 games and gifted 104 goals. They lost one game by a score of 16 to nil, and conceded nine on two other occasions. Though the defense may have been handing out presents left, right and center, their spirit remains unbroken. During the 2016 Christmas week, the team flew off to China to play a friendly little game against a local squad in Beijing.
But Santa won't be in attendance on this particular occasion. Apparently, he has his own work to do!
Read the entire article on ClausNet.com »
Featured Member - February 2017
Each month, our Featured Member section profiles one ClausNet member.
Members are chosen totally at random by myself and the staff. Once selected as the ClausNet Featured Member of the Month, we interview the candidate and post the interview on ClausNet.com. This is a great way to get to know your fellow ClausNet members!
We are happy to announce our ClausNet Featured Member for February 2017 is Santa Gene!
February's Member of the Month has been wearing the red suit for 9 years now. Santa Gene from Tacoma Washington joined our community in 2010 and has been a key contributor to the community since.
We caught up with Santa Gene a few days ago and here is what he had to say...
Read the entire interview on ClausNet.com »
Missed an interview? Visit our Featured Members of the Month section to read past interviews!
The Littlest Christmas Tree
The littlest Christmas tree lived in a meadow of green, among a family, of tall evergreens. He learned how to whisper the evergreen song, with the slightest of wind, that came gently along.
He watched as the birds made a home out of twigs, and couldn't wait till he, too, was big. For all of the trees offered a home, the maple, the pine, and the oak, who's so strong.
"I hate being little," the little tree said, "I can't even turn colors like the maple turns red. I can't help the animals like the mighty old oak. He shelters them all in his wide mighty cloak."
The older tree said, "Why, little tree, you don't know? The story of a mighty king from the land with no snow?" Little tree questioned, "A land with no snow?" "Yes!" said old tree, "A very old story, from so long ago".
"A star appeared, giving great light over a manger, on long winter's night. A baby was born, a king of all kings, and with him comes love, over all things."
"He lived in a country all covered in sand, and laid down his life to save all of man."
Little tree thought of the gift given by him, then the big tree said with the happiest grin, "We're not just trees, but a reminder of that day There's a much bigger part, of a role that we play!"
"For on Christmas eve, my life I'll lay down, in exchange for a happier, loving ground. And as I stand dying, they'll adorn me in trim. This all will be done, in memory of him."
"Among a warm fire, with family and friends, in the sweet songs of Christmas, I'll find my great end. then ever so gently, He'll come down to see and take me to heaven, Jesus and me."
"So you see, little tree, we are not like the oak who shelters all things beneath his great cloak. Nor are we like the maple in fall, who's colors leave many standing in awe."
"The gift that we give is ourselves, limb for limb, the greatest of honor, in memory of him."
The little tree bowed, his head down and cried, and thought of the king who willingly died. For what kind of gift can anyone give? Than to lay down your life when you wanted to live?
A swelling of pride came over the tree. Can all of this happen Because of just me? Can I really bring honor? By adorning a home? By reminding mankind that he's never alone?
With this thought, little tree began singing with glee. Happy and proud to be a true Christmas tree.
You can still hear them singing even the smallest in height, singing of Christmas and that one holy night.
© Amy Peterson
Santa's Wisdom
By Santa Lou Knezevich
There seems to be some controversy among Santas about portraying the character only during the Christmas Season and those who are Santa 365 days a year.
I respect both of the viewpoints and I believe it's your own choice to be or not to be.
What I have noticed at meetings and other events is how some Santas take every opportunity to "show off." Either by wearing apparel or brashness, they will make sure they are the center of attention. I guess we can say; "there is one in every crowd" and unfortunately there will always be one in every crowd.
I have observed most all of these individuals feel they are the world's best Santa Claus, you need not ask, they will tell you so!
Ego seems to be at the root of most of these individuals.
By in large, I believe when Santas are recognized out of season they handle it professionally. They handle this situation as if they would be recognized during the season. They know the child viewing them has the wide eyed wonderment of seeing Santa. This encounter leaves upon a child a lasting impression. Most Santas know this and strive to bring the joy of the moment to all.
If you are a Santa recognized throughout the year you need to make sure you hold this responsibility to the highest standards. No matter where you are or time of year; you are Santa Claus and you have a code of conduct which people expect of you.
Don't let your ego over rule legacy of Santa Claus.
Always remember, It's not about you, it's about the children.
Santa Lou Knezevich
Creator Legendary Santas Mentoring Program
LegendarySantasMentoringProg@gmail.com
Read the entire article on ClausNet.com »

Christmas Album, by Herb Alpert & the Tijuana Brass - December 16, 1968
Santa Claus Hall of Fame
Each month we feature an inductee of the International Santa Claus Hall of Fame.
This month we honor James Dyer!
James Dyer first donned the Red Suit in 1975.
Dyer is a graduate of the Charles W Howard Santa School, The International University of Santa Claus, and has won the 2016 Keep Christ in Christmas award.
He has been featured in the News & Observer, The Wake Weekly, The Biblical Recorder, 919 Magazine, and The Rolesville Buzz. He has also appeared on local and national television.
Dyer grew up in a North Carolina orphanage and learned to enjoy the wonders of Christmas from a very early age. He was a career military officer and served in Vietnam as a helicopter pilot and retired as a lieutenant colonel.
He became an ordained minister after retirement from the Army. His mission today is to make the reason for Christmas clear to all children around the world and celebrating Jesus's birthday.
James Dyer
The Pastoral Santa
Wake Forest, North Carolina
1946 – Current
Want to learn more? Visit the International Santa Claus Hall of Fame website.