Well the ice and snow has finally melted around here and the frigid temperatures have finally giving way to warmer more pleasant weather. And as I currently look out my office window, I can see a few buds peeking out on the trees. Now I just need to bring in my show shovels and ice melt.
Last month we gave away a beautiful, custom designed Santa Claus Toy Bag, graciously donated by our very own Eileen Strom. For each $5 donation to ClausNet.com, from January 1 to March 31, members were entered a chance to win. We are happy to announce that the winner of the Toy Bag is Santa Wayne!
I want to thank everyone who participated! Your generous donations are greatly appreciated and every penny goes directly to the hosting, maintenance, and continual development costs of the ClausNet Santa Claus Network online community! We hope you enjoy this month's edition of the ClausNet Gazette.
We hope you enjoy this month's issue. As always, if you have any comments, suggestions or even complaints, please do not hesitate to contact us!
In The News
OrleansHub.com -- The Albion Community Board said it supports the idea of a Santa Claus heritage site, but is requesting further information from the community whether village owned land on Main Street should be used there for a statue and a "Santa Claus House."

Photo: Charles W. Howard
Board members would like to recognize Charles W. Howard, who started a Santa Claus School in Albion in 1937. The School was run in Albion until Howard's death in May 1966. Despite still bearing Howard's name, the School is presently operated in Midland, Michigan.
Howard was an influential Santa who set high standards as to how Santa Claus should dress and act. For 20 years, he was the Santa-in-residence in the Macy*s Thanksgiving Day Parade, one of the most high profile assignments for any Santa.
The Albion Betterment Committee would like to put a bronze statue of Howard on Main Street, on vacant land next to the Presbyterian Church. Adding a building that would resemble Howard's Christmas Park and Santa Claus School would create a new Main Street attraction, said Gary Kent, a member of the Betterment Committee.
Write a comment »
Toyland Gizmodo -- If January's CES is the main course when it comes to trade shows, February's New York Toy Fair is the dessert you can't wait to dig into afterwards. The world's biggest toymakers converge on the Big Apple to reveal everything that kids—and collectors—will be dying to buy for the rest of the year.
This year we layered up to face a sub-zero New York City and meticulously combed the halls of Toy Fair 2016 to track down the standout playthings. Here's the best of what we found.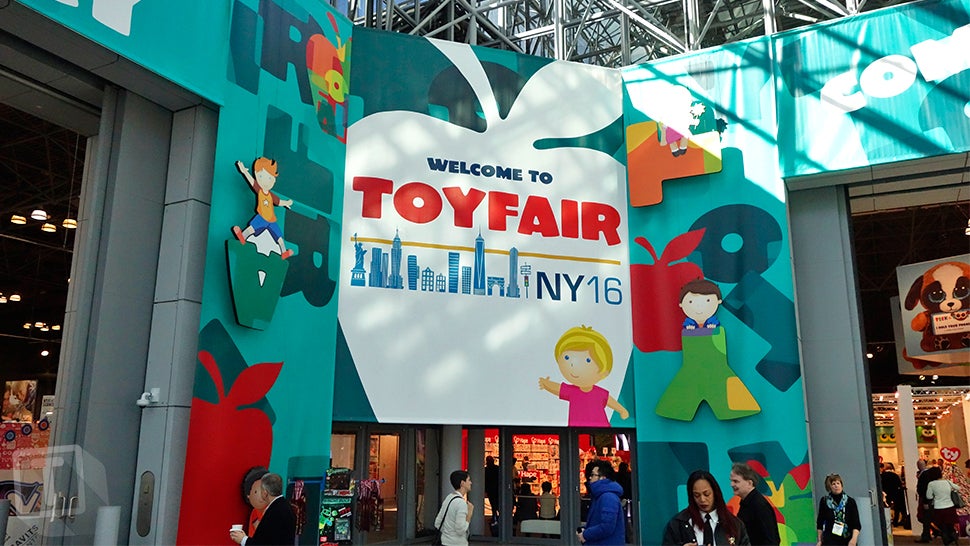 Photo: Toyland Gizmodo
Spin Master BB-8
Not since R2-D2 has a Star Wars character spawned as many tie-in products as The Force Awakens' BB-8.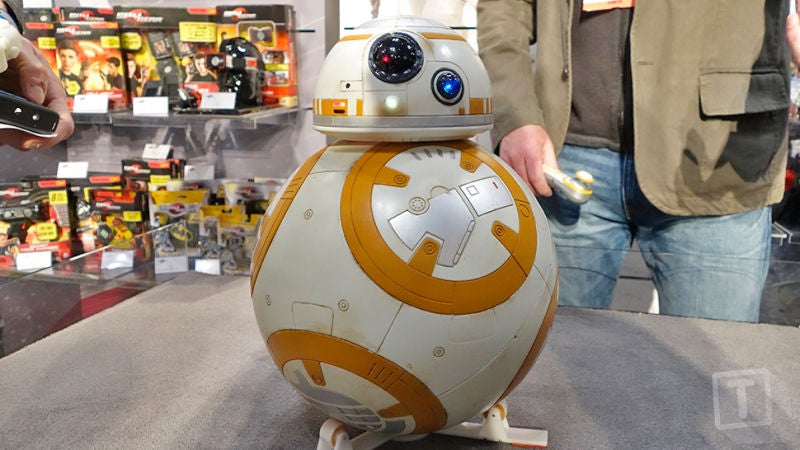 Photo: Toyland Gizmodo
But there's still room in our hearts—and on our shelves—for another BB-8 toy, especially since Spin Master's near life-size replica talks, rolls, follows, blinks, understands voice commands, and even comes when it's called. At just $180 it's priced similar to other BB-8 toys that have already sold millions.
Hasbro's Role Play Accessories
The amount of time and materials needed to make your own half-decent looking superhero costume is staggering. And that's time that could be better spent impressing other geeks at comic conventions.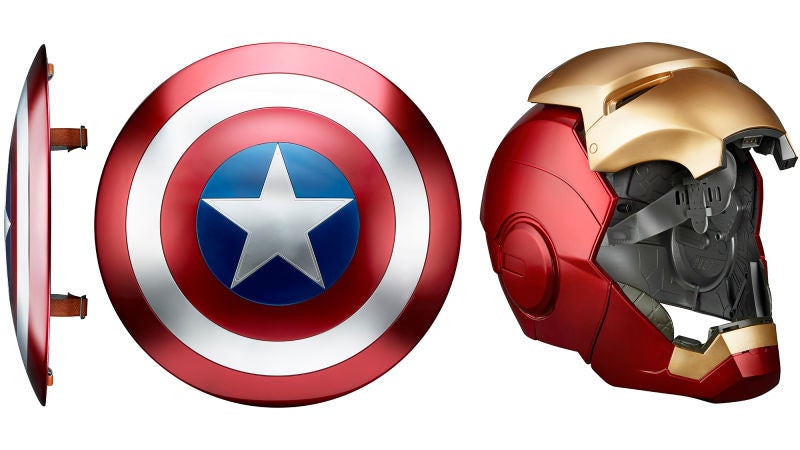 Photo: Toyland Gizmodo
At just $100 each, Hasbro's new role play accessories are money well spent. Let's be honest here, they'll certainly look a lot better than your Bondo, duct tape, and Testors paint hack job.
Air Simon
Go dig up your parent's or grandparent's original Simon toy and you'll probably find its four colored pads covered in years worth of grimy fingerprints. Gross.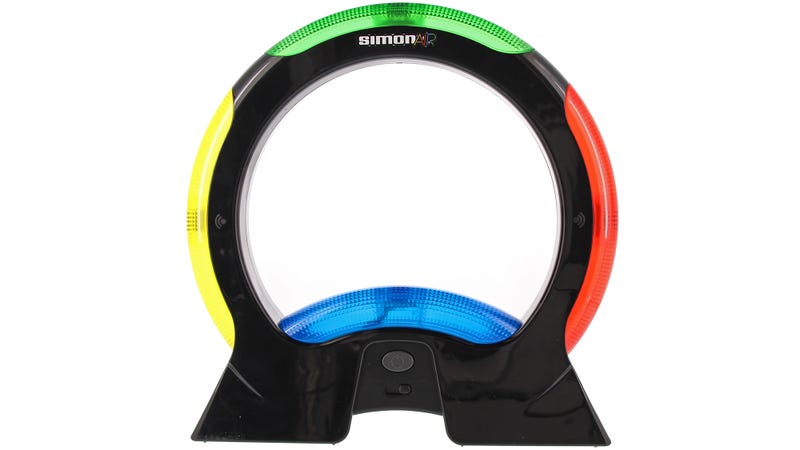 Photo: Toyland Gizmodo
That will never happen with the latest version of the memory-testing game, Simon Air, because motion sensors mean players never actually have to touch it while recreating complex patterns. Simon Air also introduces new actions and gameplay challenges, so there's good reason to upgrade.
Write a comment »
Featured Member - April 2016
Each month, our Featured Member section profiles one ClausNet member.
Members are chosen totally at random by myself and the staff. Once selected as the ClausNet Featured Member of the Month, we interview the candidate and post the interview on ClausNet.com. This is a great way to get to know your fellow ClausNet members!
This month our featured ClausNet Member of the Month is Katy Claus!
Our Featured Member of the Month for March 2016 is the better half of January 2015's Featured Member of the Month. Katy Claus joined our community back in 2013 along with her husband Caleb. Katy and Caleb make one of the cutest Mr. and Mrs. Clauses you've ever seen.
We caught up with Katy a few days ago and here is what she had to say...
Read the entire interview »
Missed an interview? Visit our Featured Members of the Month section to read past interviews!
A Toast to Santa Claus
Authored by American humorist, John Kendrick Bangs in 1912, A Little Book of Christmas is a collection Christmas short stories and poems. A Toast to Santa Claus, is one of three heart-warming poems included in the book.
Whene'er I find a man who don't
Believe in Santa Claus,
And spite of all remonstrance won't
Yield up to logic's laws,
And see in things that lie about
The proof by no means dim,
I straightway cut that fellow out,
And don't believe in him.
The good old Saint is everywhere
Along life's busy way.
We find him in the very air
We breathe day after day—
Where courtesy and kindliness
And love are joined together,
To give to sorrow and distress
A touch of sunny weather.
We find him in the maiden's eyes
Beneath the mistletoe,
A-sparkling as the star-lit skies
All golden in their glow.
We find him in the pressure of
The hand of sympathy,
And where there's any thought of love
He's mighty sure to be.
So here's to good old Kindliheart!
The best bet of them all,
Who never fails to do his part
In life's high festival;
The worthy bearer of the crown
With which we top the Saint.
A bumper to his health, and down
With them that say he ain't!
Leave a comment »
Santa's Wisdom
By Santa Lou Knezevich
Some children have fear of Santa Claus and others are fearless.
One of our biggest challenges as Santa is the calming of a hysterical child and the quieting of overzealous parents. It's not easy and I'm hopeful a few of my tips may help you turn a frightened child into "Santa's Friend."
I have grown children of my own plus a lot of grand children to observe so I have learned a few lessons through "Life Experiences." That's a fancy way of saying it was the trial and error method. I don't profess to be a child psychologist nor do I feel I'm an expert handling children but hopefully you'll find some useful information to help you in your Santa adventures.
When I started portraying Santa I thought every child would immediately jump right up on my lap, put their head on my shoulder, tell me their wishes and love me! After all isn't Santa omnipotent?
Little did I know then that on any given day one or more children would have nothing to do with me. In fact depending where you play Santa, between 1 to 10 children will cry and carry on when they get near you. This fact comes from a poll taken of Santas
At first I couldn't imagine a child who was waiting to jump into my lap and eagerly tell me all their wishes would become hysterical as soon as I stretched out my arms to receive them. What I know now is this: for whatever the reason there will be a child or two that; no matter what you do they are going to have a meltdown. Three year olds are especially unpredictable and subject to mood swings of happiness or hysteria.
The howling screams of a child in melt down is going to hush your audience faster than the blink of Rudolph's nose. Any move on your part towards the child will make them scream louder and struggle more to be away from you.
Some parents are going to make matters worse by physically placing the child in your arms or saying the cruelest things. No disrespect to parents reading this but folks telling your child; "If you don't sit on Santa's lap he's not going to bring you any toys for Christmas!" or "You don't want to be on Santa's "Bad list!" is not going to calm a hysterical child.
Parents can also be forceful as they shove a screaming child into your lap and expect you to magically wipe away the tears and bring out the best toothpaste smile a kid could have. Forget it parents, it isn't going to happen!
Santas, you need to take action to calm the situation as quickly as possible because a screaming child puts a damper on the group and focuses attention to the crying child. It may also affect other children who have their fears and this outburst triggers them into becoming melt down candidates.
I politely but firmly tell the parent(s) to move back and away from me to where the child is in their "Comfort zone." This is a distance where the child starts to calm down and maybe start to feel safe. This needs to be done quickly because, "one crying child will beget another crying child!"
You or a helper should tell the parents to have the child observe others seeing Santa which may serve to calm them down and maybe having done this they will try again. This may or not work because chances are the child may be too traumatized to change their frame of mind for that day. Don't be dismayed if the child doesn't calm down. You have done your best and next year will bring a total change!
Always remember, It's not about you, it's about the children.
Santa Lou Knezevich
Creator Legendary Santas Mentoring Program
LegendarySantasMentoringProg@gmail.com
Boy's Life, December 1934 - Arthur Smith
Santa Claus Hall of Fame
Each month we feature an inductee of the International Santa Claus Hall of Fame.
This month we honor George Cond!
George Cond is best known as the man who portrayed Santa Claus at Charles W. Howard's Christmas Park in Albion, New York. A student of Howard's Santa Claus School in 1950, Cond assumed the role of Santa at Christmas Park in 1953 and continued until the close of the park in 1966.
With Howard busy as the Executive Director and away on business during the Christmas Season, Cond handled most of the day-to-day Santa appearances throughout the park. He appeared in and around the Western New York State region on behalf of Christmas Park.
Cond also modeled Santa Claus suits for the Santa Claus Suit and Equipment Company owner Elizabeth W. Babcock in the 1970s and 1980s. Cond continued to make special Santa appearances to local families and events through the 1990s.
George Cond
Orleans County, New York
1920 – 1999
Want to learn more? Visit the International Santa Claus Hall of Fame website.