Signs of Spring in 2017

Well for those of us in the Northern Hemisphere, we are finally starting to see some signs of Spring. In the northeast United States, we endured almost 6 months of a brutal winter and bone chilling temperatures. I for one, am looking forward to sunshine and warmer weather -- and wearing shorts again!
Last month we announced the winners of our annual raffle. For each $5 donation to ClausNet.com from January 1 to March 31, members were entered a chance to win one of three great prizes. A BIG thank you to Eileen Strom and Steve Pulera (aka Eight Tiny Reindeer) who graciously donated items for the raffle! You can read more on ClausNet.com
I want to thank everyone who participated in our annual donation drive! Your generous donations are greatly appreciated and every single penny goes directly to the hosting, maintenance, and continual development costs of the ClausNet Santa Claus Network online community!
We hope you enjoy this month's edition of the ClausNet Gazette. As always, if you have any comments, suggestions or even complaints, please do not hesitate to contact us!
In The News
Sevier News Messenger -- A Parade of Santas and other events will be held at the Santa Claus Family Reunion in Gatlinburg this weekend.
Santa Claus is coming from the North, from the South, from the East and from the West. But how can this be? Everyone knows that the real spirit of Santa Claus resides at the North Pole, but now through this Monday, Santa will hang his hat in Gatlinburg!

Photos Sevier News Messenger
More than 300 of Santa's Helpers will be heading to the Gatlinburg Convention Center for the Santa Claus Family Reunion. The event is the largest gathering of its kind in the Southeastern United States.
Many unique events are on the agenda, including special workshops on Santa and Mrs. Claus, an industry trade show filled with Santa-related items, and even a fashion show! Santas will also compete to see which has the fastest sleigh as they barrel down the mountain for snow tubing at Ober Gatlinburg. The whole weekend is full of fun and informative activities! And of course, what would a Santa Convnetion be without a Grand Parade: The Parade of Santas!
Everybody loves a parade, and it stepped off this morning at 10:30 a.m. with a procession that included hundreds of Santas, Mrs. Clauses, and various local units from the surrounding area. There was also a rumor that the REAL Santa was expected to attend! Children of all ages had a fabulous time enjoying all the atmosphere and the Christmas cheer as the Parade jingled down the street.
Read the entire article on ClausNet.com »
independent.ie -- Santa Claus is being taken to court accused of unlicensed casual trading after gardai stopped him at Dublin's City Centre while he was posing for photos with local children.

Photo: independent.ie
48-year-old Donal Squires prompted more than a few double-takes when he arrived at Dublin's Criminal Courts of Justice wearing his full Santa Claus suit. His case was not immediately dealt with due to an administrative error, but his attorney said that he anticipates that the prosecution will be brought up again at a later date.
Squires, who lives on Church Street in Oldcastle, County Meath, faces one count of casual trading without a license. The incident is alleged to have happened on Henry Street, last December 18th. Apparently, Squires was prosecuted for allegedly giving out free sweets to children, posing for photos, and giving out presents for a charge.
"The gardai said that there was no license for what I was doing," Squires said when interviewed outside the courthouse. "It was on the news that there was a law allowing Santa Claus to enter Irish airspace, but now I don't know where that leaves me."
Defence solicitor Michael French said, "The case was not immediately listed due to an administrative error. We envisage that the summons will be reissued, and that the case will be relisted within the coming months. My client intends upon meeting these allegations head-on."
Read the entire article on ClausNet.com »
The Huffington Post -- Santa Claus is certain to put BBC journalist Nick Robinson on his naughty list this Christmas.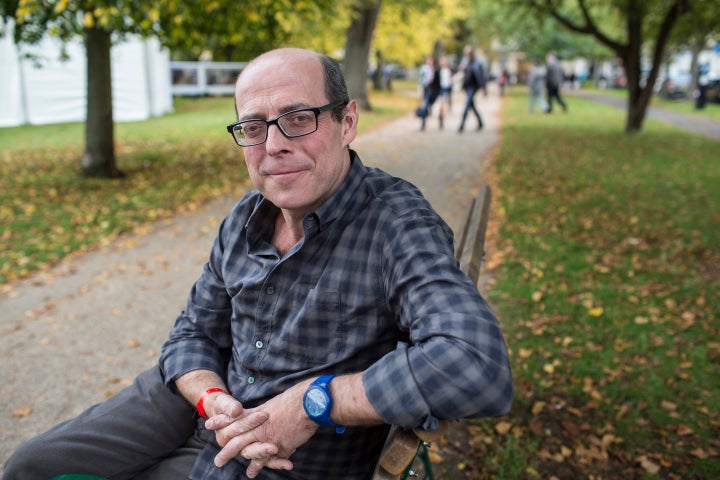 Photo: The Huffington Post
The BBC Radio 4 "Today" program presenter stunned listeners during Thursday morning's broadcast by suggesting that the jolly gift-giver doesn't actually exist.
"It's like learning Father Christmas isn't real for the first time, isn't it? I'm still in shock," Robinson said during a discussion about the station's long-running drama "The Archers."
Unsurprisingly, his comment sparked outrage among Twitter users. Although some of the comments appeared to be from genuinely upset parents or older siblings, there was also a fair amount of faux anger and humor.
Many people suggested that the BBC should issue a spoiler alert next time it decided to break such earth-shattering news.
Read the entire article on ClausNet.com »
Featured Member - April 2017
Each month, our Featured Member section profiles one ClausNet member.
Members are chosen totally at random by myself and the staff. Once selected as the ClausNet Featured Member of the Month, we interview the candidate and post the interview on ClausNet.com. This is a great way to get to know your fellow ClausNet members!
We are happy to announce our ClausNet Featured Member for April 2017 is Santa Don!
Our Featured Member of the Month for April 2017 comes from the Show Me State. Santa Don joined our community in November 2012. Don is also the first Santa we've interviewed whose favorite color is yellow.
We caught up with Santa Don a few days ago and here is what he had to say...
Read the entire interview on ClausNet.com »
Missed an interview? Visit our Featured Members of the Month section to read past interviews!
The Errors of Santa Claus
English-born Canadian writer, Stephen Butler Leacock (1869 – 1944) is best known for his humorous fiction. At the height of his career between 1915 through 1925, Leacock was the most popular English-speaking writer in the world. The Errors of Santa Claus is one of several short stories included in Leacock's book, Frenzied Fiction (1918). It was Christmas Eve.
The Browns, who lived in the adjoining house, had been dining with the Joneses. Brown and Jones were sitting over wine and walnuts at the table. The others had gone upstairs.
"What are you giving to your boy for Christmas?" asked Brown.
"A train," said Jones, "new kind of thing -- automatic."
"Let's have a look at it," said Brown.
Jones fetched a parcel from the sideboard and began unwrapping it.
"Ingenious thing, isn't it?" he said. "Goes on its own rails. Queer how kids love to play with trains, isn't it?"
"Yes," assented Brown. "How are the rails fixed?"
"Wait, I'll show you," said Jones. "Just help me to shove these dinner things aside and roll back the cloth. There! See! You lay the rails like that and fasten them at the ends, so -- "
"Oh, yes, I catch on, makes a grade, doesn't it? just the thing to amuse a child, isn't it? I got Willy a toy aeroplane."
"I know, they're great. I got Edwin one on his birthday. But I thought I'd get him a train this time. I told him Santa Claus was going to bring him something altogether new this time. Edwin, of course, believes in Santa Claus absolutely. Say, look at this locomotive, would you? It has spring coiled up inside the fire box."
"Wind her up," said Brown with great interest. "Let's her go."
"All right," said Jones. "Just pile up two or three plates something to lean the end of the rails on. There, notice way it buzzes before it starts. Isn't that a great thing for kid, eh?"
"Yes," said Brown. "And say, see this little string to pull the whistle! By Gad, it toots, eh? just like real?"
"Now then, Brown," Jones went on, "you hitch on those cars and I'll start her. I'll be engineer, eh!"
Half an hour later Brown and Jones were still playing trains on the dining-room table.
Read the entire article on ClausNet.com »
Santa's Wisdom
By Santa Lou Knezevich
When you put on the red suit something magical happens. You're transformed into the character of Santa Claus and many things change within you. For me, I noticed I could change the pitch of my voice when I spoke like Santa.
This did take some practice because I'm from Cleveland, Ohio and my normal speaking voice has a very recognizable Mid-Western accent. I have lived in the South for many years yet most folks would comment ?"You must be from the North because of your accent," so I'm recognized and identified by my voice.
Of course, this worried me until I realized I also have a Santa voice and yes, Santa lives in the north, the way north. I believe we all have a Santa voice which comes out when we wear the red suit and assume the role of Santa. This voice mimics the robust, Ho! Ho! Ho! yet carries within it the warmth of Santa.
If you think about the voice you have when you are Santa you will soon realize your voice sounds different. It may sound deeper than normal or maybe you pronounce words with a different inflection then your normal speaking voice.
I have a theory which is; we have heard Santa's voice in a movie or a spoken story and this sound is what our minds are trying to emulate in our voices. If you have a Santa voice I encourage you to cultivate it and use it to make your portrayal of Santa Claus more believable.
My best advice is to stand before the mirror and practice. Practice speaking in a Santa voice and practice using Santa mannerisms to be convincing. Laugh, smile, and let everyone know you are Santa with the happy sounds you make.
A friend once confided in me that he never though he had a Santa's voice until one day he decided to start the kids singing. So, he began singing the song himself. His wife came around the corner to see who was singing and told him later he had a wonderful Santa voice. He had always thought he didn't have a Santa voice and certainly didn't think he could sing.
You would be surprised what you can do when you are Santa. Try everything. If it doesn't work out, try something else. When it does work, add it to your performance.
Always remember, It's not about you, it's about the children.
Santa Lou Knezevich
Creator Legendary Santas Mentoring Program
LegendarySantasMentoringProg@gmail.com
Read the entire article on ClausNet.com »

Christmas Teddy, by Tom Browning, Purchase
Santa Claus Hall of Fame
Each month we feature an inductee of the International Santa Claus Hall of Fame.
This month we honor Edmund Gwenn!
One of the better known and most successful character actors ever, Gwenn was a magnificent screen presence with his stocky physique, twinkling eyes and kindly demeanor, not to mention his smooth and soothing voice.
He was born in Glamorgan, Wales on September 26, 1875 of a stern Civil Servant father who actually turned him out of the household at the age of 17 when he expressed a desire to become an actor.
Fulfilling his dream he headed for London and the British stage where he was discovered by playwright George Bernard Shaw who cast him in his play, "Man and Superman" and other subsequent productions. After serving in the army in World War I he migrated to Hollywood where his film career blossomed and eventually he won the Oscar in 1947 for his memorable role as Kris Kringle in "Miracle on 34th Street." Gwenn also appeared in the Macy's Thanksgiving Day Parade in 1946 and 1947 as Santa Claus.
Edmund Gwenn
Miracle on 34th Street
London, England
1877 – 1959
Want to learn more? Visit the International Santa Claus Hall of Fame website.