Here in New England we are squeezing out the last few days of summer. With 90 degree days this week it doesn't really feel like Autumn is only a few days away. Ahh, but it won't be long before some of us are shoveling snow and scraping ice off our windshields.
Like many of you, my Santa schedule is beginning to fill up. With the short season this year, because of Thanksgiving coming a week later than usual, many of us will likely be very busy. A few of my appearances this year start before Thanksgiving.
This month on ClausNet.com we kicked off two of our most popular annual events: the Annual ClausNet Christmas Ornament Exchange and the Annual ClausNet Christmas Card Mailing! This will be our Seventh consecutive year for these two events! To participate in our event, you must be a registered member of ClausNet. To sign up or for more details, check out the ClausNet Contests and Happenings forum.
As always, feel free to contact us with your comments and suggestions!
In The News
DefendChristmas.com -- Television news station WJCL cannot believe that with 114 days until Christmas that stores would actually put out seasonal decorations for sale. In a report touting the statistics of Christmas sales versus other seasons the "consumer reporter" tried to make a case for the merchandising but then showed nothing but clips of consumers who think it is "too early" for Christmas to be on the shelves.
This is a great example of lousy journalism and a total lack of media research in a topic. Any kind of search into merchandising routines would reveal that not only do retailers put out Christmas product four months or more ahead of time but they do so as well for other seasons.
This report, as typical of local TV news, fails to talk to one of the retailers in question or to represent any opposing views on the topic.
What is strange about this is that the report comes from the south, where Christmas and decorating is wildly popular compared to other areas of the country. But as is typical of the media reports we tend to see this time of the year, that wasn't in the story either.
Write a comment »
The Pilot Independent -- When an 80-foot tall tree from your state is going to be placed on the Capital Building lawn in Washington D.C., it's a big deal!
That's why it was so special for Minnesota State Fair attendees to have the opportunity to put their "stamp" on the Capitol Tree while showing off their creative side by making ornaments.
Fair-goers used pine cones, ribbon, glitter, pine garland, beads and lots of glue to make festive ornaments to be placed on the Capital tree and smaller companion trees that will be located in congressional and federal offices in D.C.
Minnesotans will be well-represented as they are sending 10,000 ornaments for this purpose.
The main tree will come from the Chippewa National Forest, while the companion trees will be provided by the Minnesota Christmas Tree Growers' Association.
Attendees learned fun facts about this year's tree. The tree is a spruce because it holds its needles longer. It will be cut down in late October for its journey to D.C. on a huge truck.
Some state residents may be able to catch a glimpse of the tree in early November on one of the stops along its route. Check out the Capitol Christmas tree website for when the tree might be in your neighborhood.
Write a comment »
Queens Chronicle -- Santa Claus is returning to Bayside in revived holiday parade
Santa Claus is coming to town again. He's making a list and checking it twice for good little boys and girls in Bayside.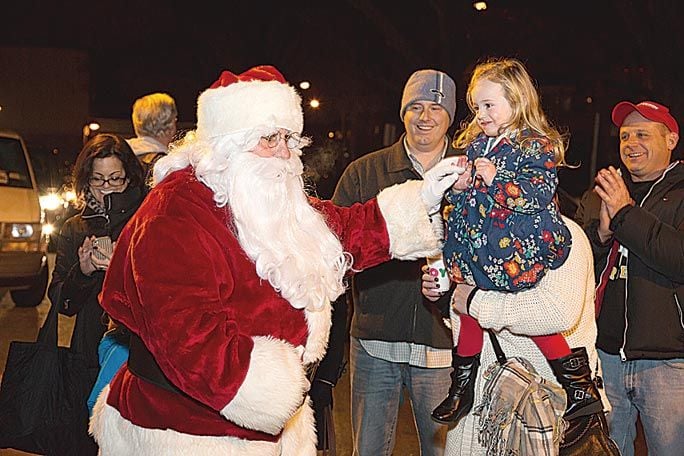 Councilman Paul Vallone (D-Bayside) said last week that he would revive the Santa Claus Parade tradition that ended in 2004. The announcement was made at the renaming part of 43rd Avenue in Bayside after the late Ben Fried, an area merchant, who died last year at the age of 98 and established the children's holiday parade.
"It's time to revive an old tradition," Vallone said. "It's perfect for the small businesses in the area and it will be fun for all."
According to Jack Fried, the son of Ben Fried, his father started the parade around 1995. "He did it on his own and asked the merchants for $10 each to cover expenses," Jack Fried said.
Write a comment »
ToyNewsOnline.com -- A new collection of LEGO bricks has swept the internet that look good enough to eat. And that's because – being made out of chocolate – they are.
Illustrator and designer Akihiro Mizuuchi thought up a system for creating edible chocolate LEGO.
According to This Is Colossal, by pouring melted chocolate into a series of moulds, Mizuuchi created chocolate bricks that can be popped out and used as their plastic counterparts – providing they don't accidentally fall into your mouth beforehand.
Write a comment »
Featured Member - September 2014
Each month, our Featured Member section profiles one ClausNet member.
Members are chosen totally at random by myself and the staff. Once selected as the ClausNet Featured Member of the Month, we interview the candidate and post the interview on ClausNet.com. This is a great way to get to know your fellow ClausNet members!
This month our featured ClausNet Member is Santa Castor!
This month's Featured Member of the Month joined us back in April 2013. Santa George Castor lives in Orlando Florida and began his portrayal of Santa Claus nine years ago. He is a regular contributor to the ClausNet community.
We caught up with Santa George a few days ago and here is what he had to say...
Read the entire interview »
Missed an interview? Visit our Featured Members of the Month section to read past interviews!
The Gift Bringer
A voice from out of the northern sky: On the wings of the limitless winds I fly. Swifter than thought, over mountain and vale, City and moorland, desert and dale! From the north to the south, from the east to the west I hasten regardless of slumber or rest; O, nothing you dream of can fly as fast As I on the wings of the windy blast!
The wondering stars look out to see Who he that flieth so fast may be, And their bright eyes follow my earthward track By the gleam of the jewels I bear in my pack. For I have treasures for high and for low: Rubies that burn like the sunset glow; Diamond rays for the crownèd queen; For the princess, pearls with their silver sheen.
I enter the castle with noiseless feet— The air is silent and soft and sweet; And I lavish my beautiful tokens there— Fairings to make the fair more fair! I enter the cottage of want and woe— The candle is dim and the fire burns low; But the sleepers smile in a happy dream As I scatter my gifts by the moon's pale beam.
There's never a home so low, no doubt. But I in my flight can find it out; Not a hut so hidden but I can see The shadow cast by the lone roof-tree! There's never a home so proud and high That I am constrained to pass it by, Nor a heart so happy it may not be Happier still when blessed by me!
What is my name? Ah, who can tell, Though in every land 'tis a magic spell? Men call me that, and they call me this; Yet the different names are the same, I wish! Gift-bearer to all the world am I, Joy-giver, light-bringer, where'er I fly; But the name I bear in the courts above, My truest and holiest name, is—LOVE!
Write a comment »
Santa's Wisdom
By Santa Lou Knezevich
As we start to think of the approaching Santa Season, I was reminded of some conversations I've had with Santa Bill Mckee and our departed friend Santa Al Horton. We all agreed about practical and ethical issues concerning Santa's behavior. Here are a few common sense reminders.
Santa should not be seen smoking, having a chew or sniffing tobacco. Smoking leaves an odor upon clothes and those little rascals will almost immediately sniff you out. Least you think I'm a Puritan; I'm an ex-smoker who enjoyed my cigarettes and coffee to the fullest. Kids pick up this sort of thing and you don't want to give a bad impression. Santa doesn't smoke, chew or spit. The smell of that on your clothes or breath will put children off.
Never drink before you portray Santa or while wearing the Red Suit. Years ago my wife's company had their annual Christmas party in one of the local hotels. A fully costumed Santa entered the hotel and proceeded to sit at the bar. In full view of everyone at the hotel, he ordered and accepted drinks from any patron. He never left his bar seat, but was the center of attention to everyone there. Ours was an adult function; however, that Santa did not make a favorable impression upon the guests.
If you are at a restaurant and would enjoy a drink, ask the server to bring it to you in a coffee cup or dark colored plastic tumbler. When you explain the reason for your request most restaurants will accommodate you. This will not draw attention to you and most of the times those around you never know you have Santa "Grog" before you.
Be very careful of what you say. Don't tell off color jokes or expound your brand of political satire. Your audience may not agree with your political views and you may lose the job for next year. Sex has no business being discussed by Santa, Ever! Your job is to preserve childhood innocence and represent Love, Goodness and Joy.
Be aware of the placement of your hands. Make sure both hands are visible when taking a picture. People will question what Santa is doing, if his hands aren't visible. You don't need anyone to question your intent or ethics and hidden hands may lead to untold consequences.
Always wear your gloves. Gloves help identify the placement of your hands in photos. They also help from spreading germs and disease. Gloves cover up blemishes, rings, watches and tattoos. Never leave home without an extra few pairs of gloves.
Remember that you are in a glass showcase whenever you wear the suit. Think of yourself as being on display. You have to be perfect all the time you are in the persona of Santa Claus.
On the whole, I believe the Santa Community is mindful of these things however, there are always Santas who don't get the message. Please don't be one of them. You should care about conduct, as bad behavior reflects upon us all.
Oh yes! Each year Flu Shots and Pneumonia Shots are offered by pharmacies, health clinics and Doctors' offices. Each year many Santas miss appearances due to Flu related illnesses. Studies have shown you do not develop the Flu from the shot. Yes, some of you may develop the Flu by contact during the season but your reaction will generally be less then without the immunization. Stop and think how many children we are in contact with and so many are put upon our knees that are ill. The Flu Shot is not a cure all but it certainly has merit as a preventative measure to keep Santa Healthy
Santa Lou Knezevich
Creator Legendary Santas Mentoring Program
LegendarySantasMentoringProg@gmail.com

Norman Rockwell Saturday Evening Post December 1939
Santa Claus Hall of Fame
Each month we feature an inductee of the International Santa Claus Hall of Fame. This month we honor Mary Ida Doan.
It is said that behind every great man is a great woman. Truly, behind Santa is Mrs. Claus. For Charter Hall of Fame member the late Nate Doan that woman was his wife, Mary Ida Doan.
For over 50 years she has been bringing Mrs. Claus to life. With an unstoppable Christmas Spirit and a deep passion to help others she has made her mark as one of the leading Mrs. Clauses in the world.
The Doans were the first couple to graduate from the Charles W. Howard Santa School in Albion, New York. Together they would work nearly 380 events every Christmas season.
Mary Ida is a co-founder of the Nate and Mary Ida Doan Santa House in Bay City where thousands visit each season to talk with Santa and Mrs. Claus.
Even today she continues to make the hearts of children of all ages happy and is fully deserving of her title Michigan's Mrs. Santa Claus.
Mary Ida Doan
Bay City, Michigan
1928 - Current
Want to learn more?
Visit the International Santa Claus Hall of Fame website.