Santa Claus greets the crowds in front of the Hudson's Department Store, Thanksgiving Day 1937
Well it's November 1 and the countdown to Christmas has begun. ABC, NBC, CBS, as well as The Hallmark Channel and SiriusXM have all announced their 2016 holiday line-up. Not to be outdone, we here at ClausNet.com we have our own official countdown to Christmas underway.
If you are a registered member of ClausNet.com, you can add your daily thoughts and observations in our official 2016 Countdown to Christmas discussion forum. For those of you who are new to our community, the countdown forum is a daily journal of the ongoing activities of our members leading up to Christmas Day. We archive each year and it's always fun to read back through threads from past years. You can read through each year's countdown since our founding in 2007.
In other news, we have added a few new items to the ClausNet Zazzle Store. We have lots of great gift items and stocking stuffers for your favorite Mr. or Mrs. Claus. And as always, all proceeds go to support ClausNet.com.
I hope you enjoy this month's edition of the ClausNet Gazette. Also don't forget that our 2016 Christmas Eve Special Edition will hit your mailboxes on Christmas Eve!
An Update on SantaUpdate.com

The world of Santa Tracking is evolving. While SantaUpdate.com will never be Norad it still gets millions of visitors each year and its growth has continued unabated. Kids and families come because they are drawn by a compelling story line that features Santa and what he is all about while providing a safe, commercial free educational experience they enjoy.
We invite Santas everywhere to join in the fun by learning the features offered and participating in projects such as voicing parts for the Kringle Radio broadcast tracking Santa around the world. We also invite your feedback and ideas in helping to craft this ongoing project. It's a fun way to share Christmas!
If you're interested in participating or learning more, please contact Jeff Westover at the Merry Forums of My Merry Christmas.
Survey Says: Sweets for Santa
On Christmas Eve, millions of children in the U.S. will leave out a treat for Santa. This now long-standing tradition is one of ambiguous beginnings. Some believe the ritual was brought over to America by European ancestors in Germanic and Scandinavian countries.
Others draw a connection between the real life celebrations of 4th-century St. Nicholas, and the children who were unable to stay awake for the festivities and would instead leave treats out for attendees who traveled from afar. More present-day accounts of the story, claim the custom originated during the Great Depression when parents sought simple ways to teach young children the importance of sharing and giving heartfelt gratitude.
Along the way, this generous gesture has evolved to be associated with Milk and Cookies. But, if you could choose the tree-side treat, what would you pick?
Let us know your pick at the following Santa's Preferences Survey: TAKE THE SURVEY

Christmas Teddy, by Tom Browning, Purchase
In The News
Defend Christmas -- An early season debate on Christmas lights in Sweden has led to significant misunderstanding in that country. The government there recently announced a ban on Christmas lights that are traditionally hung from street light poles.

Image: Defend Christmas
Some right-wing media outlets (Infowars and Breitbart) took the story and ran with it, claiming the country was trying to appease Muslim immigrants with the move.
The truth turns out to be something less spectacular. Christmas lights will be banned from utility poles only this year. Lights will still be permissible — and given Sweden's love of Christmas — still visible everywhere else.
The problem has more to do with an aging infrastructure and the question of who pays for electrical costs than what the lights are actually for. This situation has been building for years and the government is merely stopping a practice that should have been brought under control long ago for safety and cost reasons.
There is some debate within Sweden that the restrictions are a bit too much. But those arguments in debate have more to do with the potential impact more darkened streets will have on commerce than they will have anything to do with Christmas or Muslims.
Sweden, like many other countries in Europe, has problems like any other country. But a love of Christmas isn't really one of them.
Read the entire article on ClausNet.com »
Defend Christmas -- A fire fighting crew from Ohio has received disciplinary action against them for chipping in money to pay for a billboard wishing their community a Merry Christmas.

Photo: Defend Christmas
Seventeen firefighters belonging to one shift, known as Crew 3 or Super Crew 3, have received punishments ranging from reprimands for the firefighters and suspensions and probationary periods for three lieutenants and a captain. In addition, a retired captain has been barred from all fire stations in Lancaster.
The billboard was paid for by the firefighters, who decided that they would show "crew pride" instead of exchanging gifts. The billboard was in place from November 30 to December 15 when it was ordered removed. A city attorney determined it presented a civil liability because the "Merry Christmas" message expressed religious favoritism. Those involved are also in trouble for failing to get permission to take the picture at a Lancaster firehouse while they were on duty.
Once again, the arbitrary decision of one (the city attorney) determines the fate of many proving once again that no good deed goes unpunished..
Read the entire article on ClausNet.com »
SteamboatToday.com -- Main Street Steamboat Springs Manager Lisa Popovich is working harder than even Santa Claus does on Christmas Eve. And she's determined to bring the annual Holiday Lights tradition back to the town this year.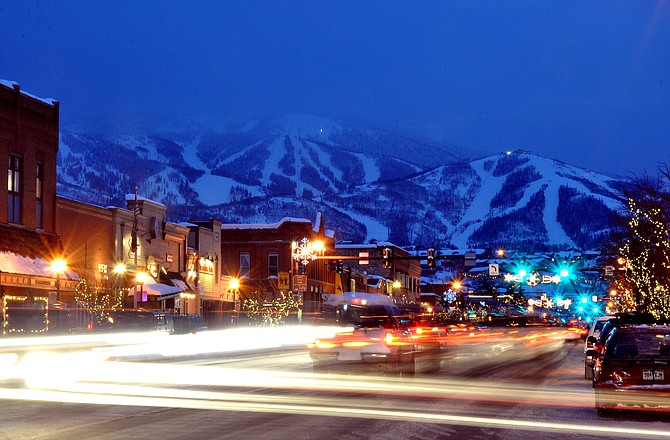 Photo: SteamboatToday.com
After some two years of total darkness and a complete lack of jolliness on Lincoln Avenue, Popovich now says she's found a solution that, if all goes well, won't break the City's overall bank account.
For $35,000, holiday company Christmas Decor could light up some 40 Christmas trees on Lincoln. On Tuesday morning, Popovich will approach the City Councilseeking some of that funding. While she hopes her request won't be met with a Bah! Humbug!, she does expect a community effort will be needed to cover the costs in order to bright the holiday lights back. City Manager Gary Suiter is recommending that the City cover at least half of that budget.
"I think that everyone I've talked to wants to see the lights back on Lincoln Avenue," Popovich said. "We're gonna have to come together and hope for some of the angels in our community to step up, because it's something for every one of us. It's so charming, having all those lights on downtown."
The lights went dark in 2014 when a dog was shocked by the City's janky lighting system.
Read the entire article on ClausNet.com »
Featured Member - November 2016
Each month, our Featured Member section profiles one ClausNet member.
Members are chosen totally at random by myself and the staff. Once selected as the ClausNet Featured Member of the Month, we interview the candidate and post the interview on ClausNet.com. This is a great way to get to know your fellow ClausNet members!
This month our featured ClausNet Member of the Month is Elf Bramble!
We are happy to announce that our Featured Member of the Month for November 2016 is Elf Bramble. Elf Bramble, aka Shane, joined our community soon after we launched the site in 2007. A self-proclaimed "Santa in Training", Shane was our first "Elf" to join ClausNet. And like all of Santa's Elves, Shane is an incredibly talented craftsman.
We caught up with Elf Bramble a few days ago and here is what he had to say...
Read the entire interview on ClausNet.com »
Missed an interview? Visit our Featured Members of the Month section to read past interviews!
Santa Claus Convention History
The first Santa Claus Convention, held in 1939 in New York City, New York, was a 2 day affair that brought more than a dozen Santas to the Hotel St. George.
It was held by the Benevolent Order of Santa Claus, which was founded two years earlier in 1937, to promote a positive image of Santa with guidelines such as clean costumes, personal hygiene, and knowing the reindeer names.
The convention was to organize Santas and present to department stores an ever endearing code of conduct and the proper appearance of the profession. The slogan of the convention was "Santa Claus is a living cause."
During the conference portion of the convention discussion, a foundation was laid for the code of conduct that included; Santa will never smoke, drink alcoholic beverages, or use any language unbecoming of a saint, be physically and mentally healthy, never break character, incorporate folklore and legend, and use the best available costuming.
After the convention, the Benevolent Order of Santa Claus continued for a few more years. In 1942 the Order was dissolved. There would not be another convention until 1950 that was held by the newly organized, Ancient and Mystic Order of Kris Kringles in St. Louis, Missouri.
The Ancient and Mystic Order of Kris Kringles was organized in 1949 for the purpose of "Placing Santa Claus on a Higher Plane and to Promote Good Will, Fellowship and the True Christmas Spirit in the Hearts of All People."
Santa Sam Caress, President of AMKK, was very instrumental in laying out a 2 day conference that held seminars taught by Santa Frank Lais of New Orleans, Louisiana and Santa Charles W. Howard of Albion, New York. In the convention's symposium, 12 important topics were open for discussion. The symposium used "Roberts Rules of Order" and was presided over by Santa Francis A. Kirby of Silver Springs, Maryland.
There would be a few more conventions in the United States in the 1950s and 1960s. Then not another until 1985, but that is another story.
Santa's Wisdom
By Santa Lou Knezevich
Many times I have sat down to write and express my feelings about the "World of Santa Claus." You may not agree with some or all of my comments however, I hope you will pause and think about your role in our community.
We Santas and Mrs. Clauses have a huge responsibility to portray a mythical personality based upon ethical, moral, and traditional values. The bar has been set high by our predecessors yet; each day, social media plus other venues display an uncharacteristic view of Santa Claus.
Maybe your historical knowledge of Santa needs a bit of reviewing. Santa Claus, Mrs. Claus and their Elf helpers live at the North Pole. The North Pole we speak of is a mythical territory wherein the principle mission is to produce the toys and presents which bring joy to all on Christmas Morning.
The North Pole does not have Politics or Politicians; nor does it advocate off color jokes or inappropriate commentary. We have been trained to "Never fall out of character when you portray Santa". If you have created a Facebook page or web page as Santa or Mrs. Claus, you speak for the mythical characters we portray. As mentioned, there are no politics at the North Pole, so, when you express you're political and personal views on social media as Santa or Mrs. Claus, you are falling out of your character. I don't want to change your views; I only want you to post your personal comments under your own picture and name, and not under the cover of Santa or Mrs. Claus.
Daily, I am surprised (and I shouldn't be) at those in the Santa Community who don't get the message and post all sorts of "garbage" for the world to see. Your unprofessional comments, posts and emails, while spoken by you, appear to speak for the entire Santa Community. Whatever your bias's, prejudices, politics, or beliefs need to be expressed under your own likeness, not under the guise of Santa or Mr. Claus.
May I also remind you, your posts may be seen by children? Not only does this send a terrible message by Santa, parents reacting to your comments may not want their children to be on your knee!
When you bought your Santa costume I'm sure it was with the purest intentions. Like all of us, you wanted to bring joy and happiness to everyone. I appeal to the small number of the Santa Community to stop acting like "school yard bullies" and become the True Santa, loved by all!
Always remember, It's not about you, it's about the children.
Santa Lou Knezevich
Creator Legendary Santas Mentoring Program
LegendarySantasMentoringProg@gmail.com
Read the entire article on ClausNet.com »
Santa Claus Hall of Fame
Each month we feature an inductee of the International Santa Claus Hall of Fame.
This month we honor Pat Koch!
The daughter of Legendary Santa Claus Jim Yellig, Pat Koch, has greatly contributed to the vocation of Santa Claus with her many endeavors.
Every year thousands of letters for Santa Claus pour into a small town in the State of Indiana, America's heartland, which is no surprise since the town is called Santa Claus.
Children of all ages express their deepest wishes and darkest fears to the man in the red suit. Answering these letters has been a community tradition for decades.
As Santa's Chief Elf, Koch's involvement answering these letters began in 1944 by helping her father "Santa Jim" and today she heads up the many volunteers that carry on this loving custom.
In 2006 Pat Koch founded the Santa Claus Museum to preserve the history of the community of Santa Claus and the attractions that helped build "America's Christmas Hometown".
Pat Koch
Santa Claus, Indiana
1937 – Current
Want to learn more? Visit the International Santa Claus Hall of Fame website.